Ghost Knife Fish Hotpot with Bitter Melon one of Easy Vietnamese Recipes for cooking. If you do not much time to create a stunning dish, here is the best choice. Moreover, bitter melon is really fresh and good for health. When you feel hot inside and your skin becomes dry, I suggest you should eat this dish.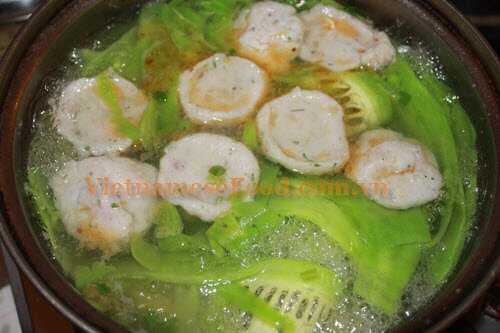 Ghost Knife Fish Hotpot with Bitter Melon
So, are you ready for cooking one of easy Vietnamese recipes now? Please follow these instructions carefully.

Ingredients:

2 bitter melon
250gr meat of ghost knife fish (No bone)
1kg pig bone.
Vermicelli, spring onion, fish sauce, shallot
Salt, monosodium, pepper, chili and cilantro (parsley)

Process:

Step 1: Clean bitter melon, cut half, do not use seeds, slice thin. Because bitter melon has bitterness, you can boil with hot water about 3 to 5 minutes to reduce its bitterness. However, I suggest you should you whole its flavor. It is really good for health and skin.


Step 2: Clean pig bone and prepare for making broth of hotpot. Put bones and water into pot. Next boil it, add a little fish sauce, salt, sugar, pepper and monosodium (optional). Then, you taste again to suit with your flavor. Here is the important step to create one of easy Vietnamese Recipes. Please be careful.
Click
Ghost Knife Fish Hotpot with Bitter Melon Recipe
to see more steps of this amazing dish. And do not miss our next posts at
VietnameseFood.com.vn
. Hope to see you there :)